[Free] Welcome to the Fate of the Fallen world!
[Free] Welcome to the Fate of the Fallen world!
New from R. Phoenix! Check out this 11k word free short set in the Fate of the Fallen world. If you haven't read any of the FotF books, this is a great place to start — even if it is much sweeter than the rest of the books. From there, check out Spoiled and Anticipation [w/Morgan Noel] before falling down the rabbit hole into the Tamed & Trained Trilogy [w/M.A. Innes], the Fate of the Fallen series, or the Need Trilogy.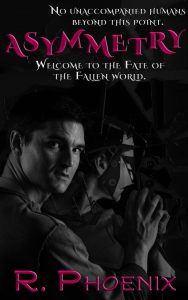 Amazon | B&N | iBooks | Instafreebie | Kobo | Smashwords

One fledgling vampire. One nearly-powerless witch. Two underdogs in society. Will a chance encounter between two should-be enemies lead to anything but violence?
Until three weeks ago, Dorian was a human — one of those subjugated by the supernatural beings who now rule the world. He spent ten years struggling to survive, but now that he's been turned, he needs to learn how to live. Problem is, there's a lot to learn but not much time to learn it in. Loneliness is far from the only problem, but it seems to be the most pressing.
Supernatural or not, Emery doesn't have a fancy family name to back up his standing in society. The most memorable thing about him is his red hair, not his magic, and he's had to throw in with those whose price for protection isn't low. Even though he'd never admit he's lonely, he's fascinated enough by his run-in with a brand-new vampire to not dismiss him despite the tensions between their races.
Can they cure their loneliness with one another, or will society prevent them from doing anything but wonder what might have been?
Asymmetry is approximately 11k words long. This standalone is set outside of the timeline of the other Fate of the Fallen books. If you haven't read the books, welcome to the FotF universe! I hope you enjoy the fluffy and cute before the descent into chaos. 😉