Other FotF Books
Other FotF Books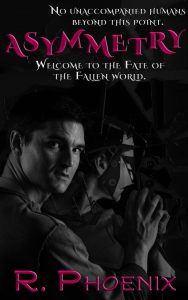 Asymmetry
R. Phoenix

One fledgling vampire. One nearly-powerless witch. Two underdogs in society. Will a chance encounter between two should-be enemies lead to anything but violence?
Until three weeks ago, Dorian was a human — one of those subjugated by the supernatural beings who now rule the world. He spent ten years struggling to survive, but now that he's been turned, he needs to learn how to live. Problem is, there's a lot to learn but not much time to learn it in. Loneliness is far from the only problem, but it seems to be the most pressing.
Supernatural or not, Emery doesn't have a fancy family name to back up his standing in society. The most memorable thing about him is his red hair, not his magic, and he's had to throw in with those whose price for protection isn't low. Even though he'd never admit he's lonely, he's fascinated enough by his run-in with a brand-new vampire to not dismiss him despite the tensions between their races.
Can they cure their loneliness with one another, or will society prevent them from doing anything but wonder what might have been?
Asymmetry is approximately 11k words long. This standalone is set outside of the timeline of the other Fate of the Fallen books. If you haven't read the books, welcome to the FotF universe! I hope you enjoy the fluffy and cute before the descent into chaos. 😉
Now available on audio, narrated by Kenneth Obi!
Spoiled & Anticipation
With Morgan Noel
Though Spoiled and Anticipation are set in The Fate of the Fallen / Status Quo world, these works stand alone. These characters do not appear in the FotF/SQ books, and there are no spoilers for the series.
The capture of an arms dealer's spoiled lover should've been a win for the humans struggling to survive their harsh lives in the slums. Powerless and outnumbered, it seems like only a matter of time before Romulus betrays the Butcher. But when Kieran realizes their prisoner is none other than his stepbrother, he has to face the harsh truths he's been avoiding for too long. Torn between loyalty for his new family of humans and the witch he has more than brotherly feelings for, Kieran must make a decision that could leave him with nothing.
[Anticipation takes place 5 months after Spoiled. This can be read as a standalone erotic novella, but it does have major spoilers for… Spoiled.]
Kieran has been able to avoid meeting his stepbrother's notorious lover for five months, but the Butcher always gets what the Butcher wants. Forced to meet the man of his nightmares, he expects to get hell for being in love with Romulus… but he might just like it.
Anticipation contains consensual mature content such as BDSM, edging, and MMM.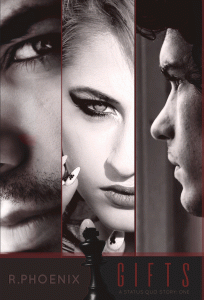 The Status Quo #1: Gifts
R. Phoenix
Before Imriel Conti was condemned to a life of slavery, the young witch was sheltered… and separate from a world that damns him for his bloodline alone. Now that he is in the hands of Draven Foss and Callia Odessa, a sensual and controversial power couple at the pinnacle of supernatural society, all of that is about to change. Coveting him for his accursed but prized gift, they take him into their household, where he finds his morals and innocence equally compromised.
This novella contains explicit M/F and M/M/F scenes. All characters are 18+. While Gifts is set in the same universe as the 'Fate of the Fallen' series, it can be read separately.