Of All the Odds
Of All the Odds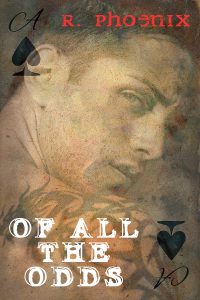 When the fae play such deadly games, falling in love with one of them can have devastating consequences… 
Fickle and capricious, the fae lack a true understanding of human emotions. Though they can masquerade as human, their behavior inevitably betrays them as something utterly other. When Ichabod bested him at a card game, Sebastian abandoned his human lover, leaving him only with a cursed deck to keep him alive.
For a hundred years, Ichabod has waited for his fae lover to return to him. Every day to prolong his life, he must trick an oblivious outsider into choosing a card from a cursed deck — a card that spells everything from a stomach full of bees to a full body swap… to death. Having their deaths on his conscience weighs on him, but to fail would mean the end of his existence… and he isn't ready to let go when Sebastian might return…
Their reunion is as erotic and dangerous as their time together, with the two exploring the depths of dominance and submission, of pleasure and pain, of sadism and masochism. But can one of the fae truly care for a human? Or will Ichabod's ferocious love for Sebastian prove to be the end of him?
###
Of All the Odds is a non-traditional love story and modern-day fairy tale of the Grimm variety. Warnings: unsafe BDSM (in all senses of the phrase), a Master/slave style-relationship, and consensual breath play.